Ghana can produce 30 million metric tons of cassava – CRI
Main page content
Source: https://www.ghanabusinessnews.com/2017/09/20/ghana-can-produce-30-million-metric-tons-of-cassava-cri/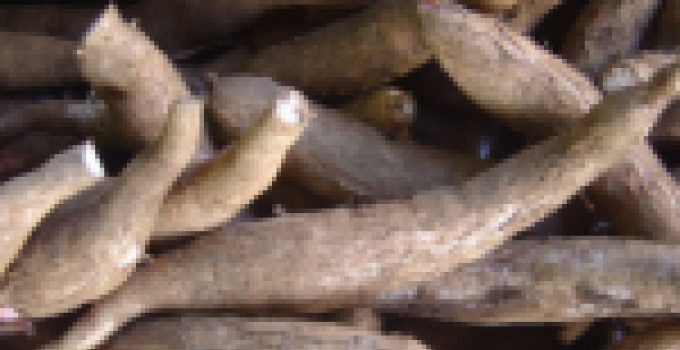 Ghana's cassava production level could hit 30 million metric tons a year through the adoption of best farming practices by farmers, Professor Joe Manu Agyei of the Crop Research Institute (CRI), has said.
The country has currently being doing close to about 18 million tons annually but he said planting of high yielding, disease-resistant and pest-free varieties could result in substantial increase in production.
He was speaking to journalists on the sidelines of a day's workshop organized at Somanya by the CRI under the West African Virus Epidemiology (WAVE) for Root and Tuber Crops Program.
It brought together farmers, extension officers and officials of the Food and Agriculture Ministry from across five districts in the Eastern Region.
These are Asougyaman, Akuapem North, Yilo Krobo, Upper Manya and the Lower Manya Municipality.
Funding for the program is coming from the Global Development Program of the Bill and Melinda Gates Foundation (BMGF) and the British Department for International Development (DFID).
It seeks to increase the productivity and sustainability of root and tuber crops in six African countries through coordinated management of virus diseases threats.
Prof Agyei encouraged farmers to adopt improved farming technologies and to use of quality planting materials to increase crop yield and returns.
He announced that under the planting for food and jobs program, the Chinese Government had offered to import 4.5 million tons of starch annually from the country and said to take advantage of this offer there was the need to expand cassava cultivation.
Dr. Allen Oppong, a Research Scientist and Leader of WAVE Program in Ghana, said the goal was to aid farmers to understand the virus threat to root and tuber crops in West Africa.
He urged farmers to be on the lookout for the cassava brown streak virus disease, which he described as dangerous.
The virus was yet to strike the sub-region but he said it was important to create awareness – assist farmers to know and report to the appropriate authorities for prompt response any sign of attack.