Migration of Sponsored Projects onto the ReMIS and GAMS
Main page content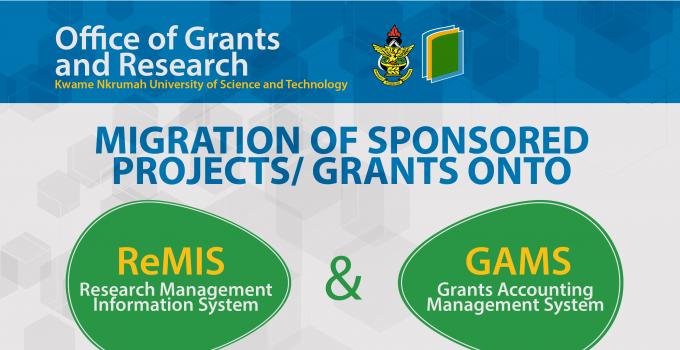 The Office of Grants and Research wishes to bring to the notice of all Researchers/Principal Investigators (PIs)/Project Coordinators, the complete migration of all sponsored projects/grants in the University onto the Research Management Information System (ReMIS) and Grants Accounting Management System (GAMS) platforms by March 2, 2020.
ReMIS is a web-based database system designed to capture research and grant-related information in KNUST.
It enables KNUST to track its successes regarding how many proposals get approved on a yearly basis.

It helps to present a university-wide view of all donor/externally funded projects of KNUST.
GAMS is an accounting software developed to facilitate the automation of grant accounting and reporting at KNUST.
This system operates in tandem with the ReMIS in a way that only captured projects on the ReMIS can be accessed on the GAMS to attach their corresponding approval budgets.

When the budgets get uploaded, payments request could then be committed against budget lines.

GAMS has also been integrated into the University accounting system to complete the accounting process.
All Principal Investigators/Project Coordinators are to submit their project budgets and other relevant information to their College Accountants by February 29, 2020.