8th KNUST RESEARCH FUND CALL
Main page content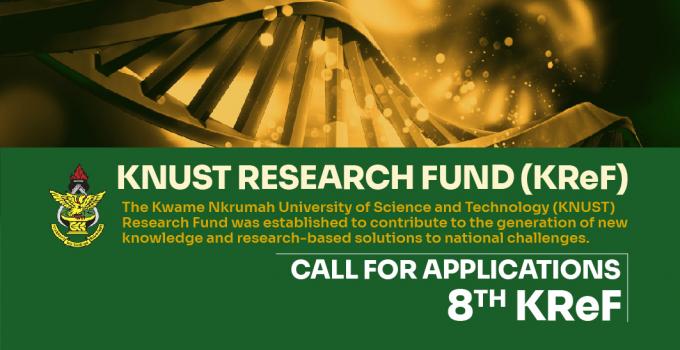 BACKGROUND
The Office of Grants and Research (OGR) is pleased to announce the extension of the 8th Call for Research Proposals for funding support from the KNUST Research Fund (KReF). The University has established the KNUST Research Fund to provide an internal source of funding for the staff of KNUST to conduct innovative research projects that address specific developmental challenges in Ghana and beyond. The Fund has two key objectives;
To promote the conduct of innovative and impactful research by KNUST staff through inter/multi/transdisciplinary research collaborations

To provide a platform for staff to master the art of developing winning research/grant proposals to attract external funding support for research.
The 8th Call will put a premium on high-quality research proposals that provide specific solutions to contemporary or persistent challenges of society through the application of innovative technologies and multi-disciplinary approaches. Applicants are encouraged to develop research proposals that enhance the University's strategic mandate of advancing knowledge in science and technology.
AWARD CATEGORIES
Two types of awards will be made under this Call. These are:
Seed Grants: This award will be for relatively small pilot or exploratory research projects that focus on exploring the feasibility of emerging research approaches. Seed grants allow investigators to collect preliminary data for future scale-up activities or to inform significant grant applications. Seed awards shall not exceed a total of Twenty Thousand Ghana Cedis (GH¢ 20,000) per award.

Multi/Interdisciplinary Grants: This is for research projects that seek to address developmental issues in society through multi/inter/transdisciplinary approaches that can shape or influence policy and practice. This award category is also intended to promote research collaborations among various Departments and Colleges of the University and relevant external stakeholders. The research team should comprise members from at least three distinct disciplines or fields of study. Funding for such proposals shall be up to Fifty-Five Thousand Ghana Cedis (GH¢ 55,000) per award.
ELIGIBILITY
The eligibility criteria for KReF are as follows;
All Senior Members (academic and administrative) of KNUST

Early-and-mid-career researchers and female applicants are particularly encouraged to apply

Eligible applicants can submit only ONE application as the Lead/Principal Investigator

The following are NOT eligible to apply as Principal Investigators:
Staff on post-retirement contract, sabbatical leave, study leave, or part-time contract. They are, however, allowed to be part of a team of eligible applicants as co-investigators or team members

Persons who have received KReF awards within the past three years

Previous grantees who have not fulfilled all the conditions of their prize, including the submission of progress and final reports

Undergraduate or postgraduate students. However, postgraduate students can be part of a team of eligible applicants for capacity-building purposes.
AWARD DURATION
All KReF grants are awarded for 12 months, within which the approved research project must be completed. This applies to both Seed and Multi/interdisciplinary grants.
APPLICATION INFORMATION
The KReF application involves both online and offline processes. To begin the application process, applicants must follow the under-listed procedure:
Read carefully and follow all the instructions and formatting requirements in the Application Form

Assemble all supporting documents ( including CVs of all team members and Letters of Support from HOD, and other relevant institutions)

Merge all application documents into a single PDF or zip file

Complete the application process by submitting the single application document (PDF) via the KReF online application portal.

Expect to receive an email or message to confirm receipt of your application by OGR
ONLINE SUBMISSION PROCESS
Applicants must log in to the KReF portal at: funding.knust.edu.gh using their KNUST credentials as username and password.

Click on "Submission" and follow the instructions to upload your application document

Expect an email or message to confirm that the Office of Grants and Research has successfully received your application.
DEADLINE FOR SUBMISSION OF APPLICATION
The 8th Call is open for applications from Tuesday, 10th January 2023. The new deadline for submitting applications is Friday, 17th February 2023, 5:00pm GMT. Only applications received via the KReF online platform by the deadline will be accepted.
Contact Information
Any questions or further inquiries on the application process must be directed to the persons below:
Mrs. Hannah Adom Eyison
Assistant Grants and Research Manager
Office of Grants and Research, KNUST
0504071350
Mr. Edward Abeku Ampah
Senior Administrative Assistant
Office of Grants and Research, KNUST
eaampah@knust.edu.gh or ampah.edward@yahoo.com
0208261983