Government urged to invest more in research
Main page content
Source: http://www.graphic.com.gh/news/general-news/government-urged-to-invest-more-in-research.html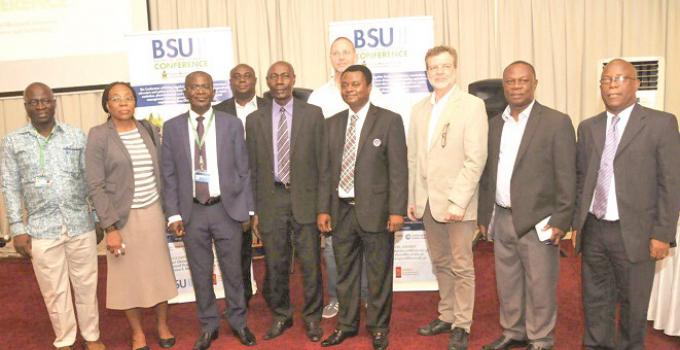 The Vice Chancellor of the Kwame Nkrumah University of Science and Technology (KNUST), Prof. Kwasi Obiri-Danso, has urged the government to invest more in research to build credible data to accelerate the country's development.
'No country can develop without credible data,' he told funders, academics, researchers, educators and policy makers in Kumasi last Tuesday at the second 'Building Stronger Universities (BSU)' project under a bi-partnership between KNUST and the University of Copenhagen-led consortium.
The BSU project is to help build capacities in southern universities in partnership with Danish universities.
It was under the theme: 'Maximising stakeholder involvement in productive research and uptake.'
Well-researched data
Prof. Obiri-Danso said the era of doing things haphazardly was over and for Ghana to match up with the rest of the world, it called for systematic, well-thought through and well-researched data to help the country develop.
The Danish Government, since 2012, has spent at least $3 million to train 9 Phd researchers and 20 MPhil students. They have as well stocked the university's laboratories to scale up research to tackle Ghana's specific developmental needs.   
The main areas being focused on are climate change, smart agriculture and environmental management, entrepreneurship, job creation and health delivery system.
In line with efforts to help scale up the country's development, KNUST is to host a national conference in Kumasi among government, researchers and industry to advance the frontiers of research.
The Minister of Environment, Science, Technology and Innovation, Prof. Kwabena Frimpong Boateng, said for research to make a meaningful impact, it must be open to questioning and testing, challenge the status quo, break new grounds and add to existing knowledge.
In the speech read on his behalf by the Director of the Council for Scientific and Industrial Research (CSIR)-Forestry Research Institute of Ghana (FORIG), Dr Daniel Ofori, he called for the implementation of numerous researches conducted by the council to enhance development.
He said research remained the only panacea to solve Ghana's problems, including sanitation, and called for support at all fronts to enhance research.