Main page content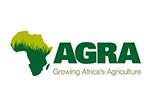 Alliance for a Green Revolution in Africa (AGRA) was founded in 2006 by the inspiration from the former United Nations Secretary-General, Kofi Annan's call for a unique African "green revolution" to improve smallholder farm productivity while preserving the environment.
It was founded through a partnership between the Rockefeller Foundation and the Bill & Melinda Gates Foundation. It has since expanded its donor base to include governments as well as other international organizations. It works across the continent to help millions of smallholder farmers who make up 70 percent of Africa's population to boost their farm productivity and incomes.
Poverty and hunger in Africa are inextricably linked to the plight of smallholder farmers, who produce most of the continent's food but struggle with unproductive soil, unreliable water supplies, low-quality seeds, and scarce markets for their crops.
AGRA has supported more than 400 projects, including efforts to develop and deliver better seeds, increase farm yields, improve soil fertility, upgrade storage facilities, improve market information systems, strengthen farmers' associations, expand access to credit for farmers and small suppliers, and advocate for national policies that benefit smallholder farmers.
AGRA aims to play a central role in transforming the agricultural sector in Africa and its food system in a way that is tailored to conditions in Africa and places a strong emphasis on safeguarding the environment. For these, AGRA seeks to build an alliance of partners including farmers and their organizations, governments, agricultural research organizations, the private sector, local nongovernmental organizations, and civil society to significantly and sustainably improve the productivity and incomes of smallholder farmers, many of whom are women.
AGRA's primary strategy is to facilitate the creation of an efficient African food system through grants and capacity-building assistance to institutions that are helping to improve the productivity of smallholder farmers. AGRA carries out its activities in 16 countries, with a special emphasis on Ghana, Mali, Mozambique, and Tanzania. The aim is to improve production of staple crops in "breadbasket" areas that have relatively good soil, adequate rainfall, and basic infrastructure, and then replicate successful approaches in other areas and other countries with similar conditions. AGRA also supports programs in Malawi, Zambia, Uganda, Kenya, Ethiopia, Rwanda, Nigeria, Niger, and Burkina Faso, and it has recently ventured into three post-conflict locations: Sudan, Sierra Leone, and Liberia.
Main Office
500 Fifth Avenue North
Seattle, WA 98109
(206) 709-3100
Grant Inquiries