The future of research at KNUST looks bright-Prof. Richard Akromah
Main page content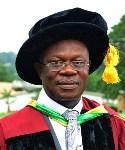 Prof. Richard Akromah, has re-echoed the saying "Publish or Perish" in the academia. He emphasized that in academia, one is promoted through quality teaching and research as well as services to the University and community.   He disclosed this when he granted an interview to the Office of Grants and Research at the College of Agriculture and Natural Resources where he is currently the Provost.  He however acknowledged the challenge researchers face in securing funds for their research. He added that he wishes to do more than he is currently doing but for lack of funds. He shared his experience on how he braces himself for the outcome of proposals that he submits.
Prof. Akromah believes that Research Administrators are very necessary in putting proposals together.  He therefore hailed the establishment of the Office of Grants and Research in the University as a good innovation and said that the work of Research Administrators will inform management of the university on what is going on in the Colleges as far as research is concerned. He noted that the future of research looks bright especially with the establishment of the central laboratory and the replacement of laboratory facilities.
Prof. Akromah is a product of Bekwai SDA Secondary School.  He had his BSc. degree in Agriculture from KNUST in 1982 and had his two -year national service with the then Ashanti Cocoa Rehabilitation project after which he worked with the Crop Research Institute. He proceeded to the Plant Genetic Research Center (Bunso) where he was responsible for Tissue Culture and Morphological information for the creation of a repository of indigenous crops. He then won an FAO scholarship to pursue a Masters degree in Plant Genetics at the University of Birmingham in 1989. He also pursued a PhD in Agricultural Botany at the University of Reading. He later joined KNUST as a lecturer in 2001, became a senior lecturer after two years and an associate professor after five years. He has risen through the administrative ladder as a Head of Department, Dean and is currently the Provost of the College of Agriculture and Natural Resources.
His professional interest has always been in teaching and researching thus his motivation to move to KNUST. His research has mainly been in the area of Plant genetics and conservation activities.  He is also interested in Crop adaptation and Plant Diseases such as black pod disease in cocoa, virus resistance in avocado and virus strains in tomatoes. He has a tissue laboratory where tissue cultures for plants are done.
In his concluding remarks, he fully supported the initiative to improve the university's grant database to make the university visible to the outside world and thus open avenues for more research funds for collaborative research.