If we are not able to sustain development .... Prof Charles K. Kankam
Main page content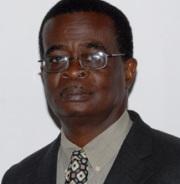 "If we are not able to sustain development we will kill mankind" – Prof Charles K. Kankam
Prof Charles Kwame Kankam perceives the future of research in KNUST as growing and that people are beginning to understand that research is the priority requirement for promotion and progression. According to him, people were satisfied with their mediocre position in the past but there has been an enlightenment of researchers.
In an interview with him, he indicated his involvement in several research activities with focus on conventional materials such as pozzolana, limestone, clay, locally milled reinforcing steel bars from scrap metals, natural fiber concrete reinforcement, and lesser known timber species in Ghana for structural building and construction to reduce the cost of building materials so that the ordinary Ghanaian can also afford a decent accommodation. This he explained by saying "If we are not able to sustain development we will kill mankind". His research activities have mainly been sponsored by Swiss University, German Government, Danish Government and the Switzerland government.  Prof. Kankam shared his view on the establishment of the Office of Grants and Research (OGR) and research administration in KNUST by saying "OGR is a good idea because it will centralize research activities on campus".
Prof. Kankam attended the St. Augustine's College and attained his first degree from the Civil Engineering Department of then University of Science and Technology, Kumasi, after which he became a teaching assistant in the same department for one year. He had a sponsorship to do a Master's degree and Diploma of Membership at Imperial College in Concrete Structures and Technology in Civil Engineering in 1980 at the University of London, England. The European Development Fund also sponsored his PhD from 1980 to 1983 Civil Engineering.
He is a Fellow of Ghana Institution of Engineers, Fellow of America Society of Civil Engineers as well as Structural Engineering Institute of America, and Member of International Ferrocement Association.
He was of the view that undertaking research is bedeviled by challenges such as financial constraints, lack of instruments and requisite equipment for research and Limited instruments for lab analysis. He overcomes these challenges through effective collaboration with other institutions. He is motivated to become an expert in his field so he is contacted by renowned journals and publishers to review publications.
 In his concluding remarks, he emphasized the need for mentorship of lecturers by senior lecturers. Monetary gains should not be the ultimate aim but instead getting to the top of the academic ladder.