Department for International Development (DFID)
Main page content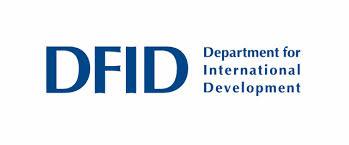 This is a United Kingdomgovernment department. It was separated from the Foreign and Commonwealth Office in 1997. The goal of the department is "to promote sustainable development and eliminate world poverty".  DFID currently work directly in 28 countries across Africa, Asia and the Middle East.
DFID's main priorities areas of work are Education, Health, Social Services, Water Supply and Sanitation, Government and Civil Society, Economic Sector (including Infrastructure, Production Sectors and Developing Planning), Environment Protection, Research, and Humanitarian Assistance.
The Department for International Development (DFID) leads the UK's work to end extreme poverty by creating jobs, unlocking the potential of girls and women and helping to save lives when humanitarian emergencies hit.
DFID is responsible for; honouring the UK's international commitments and taking action to achieve the Millennium Development Goals, making British aid more effective by improving transparency, openness and value for money, targeting British international development policy on economic growth and wealth creation.
Also they are responsible for improving the coherence and performance of British international development policy in fragile and conflict-affected countries, improving the lives of girls and women through better education and a greater choice on family planning, preventing violence against girls and women in the developing world, helping to prevent climate change and encouraging adaptation and low-carbon growth in developing countries.
Office address (London)
22 Whitehall 
London
SW1A 2EG
Telephone 020 7023 0000
Fax 020 7023 0012
Office address (East Kilbride)
Abercrombie House 
Eaglesham Road 
East Kilbride
G75 8EA
Telephone 01355 84 4000
Fax 01355 84 4099
DFID general enquiries
Email enquiry@dfid.gov.uk
Telephone (UK only) 0300 200 3343
Telephone (from outside UK) +44 (0) 1355 84 3132
They aim to respond to all emails within 15 workings days. Where appropriate, they will forward your email to another government department if they are better placed to respond to your enquiry.