Research with relevance has been my main drive
Main page content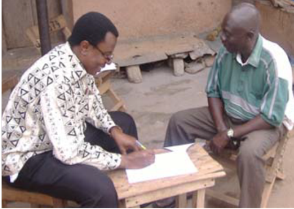 The passion to engage in research that meets a need and impacts on society has been the drive for many Researchers. One of such researchers is Prof. Francis Agyemang Yeboah (Prof. FAY) who is currently the Head of Molecular Medicine Department of the School of Medical Sciences, College of Health Sciences, KNUST. According to Prof. FAY, (as he is popularly known) the idea of making an impact on people's lives brings him joy. This is evident in the number of collaborative research he has been engaged in particularly in the fields of HIV/AIDS, Climate Change in Health and Cancer.
His research focus has been in these areas mainly due to their relevance to societal health needs and the need to build the next generation of researchers. Prof FAY  won a grant from the Ghana AIDs Commission to do a research on the nutritional needs of HIV/AIDs. Through this research project, over 250 people living with HIV/AIDs in Ashanti region received basic recommended allowances and health support to improve their nutritional needs. Upon the successful completion of this research, he was tasked by the University, along with others, to develop a policy on HIV/AIDs for KNUST, while the Ghana AIDS Commission invited him to be a member of National HIV/AIDS Researchers. After several years of research in HIV/AIDs, Prof. FAY's efforts have helped improve the lives of several patients who otherwise would have experienced severe ill health or death.
In the area of climate change, the focus of his research has been to establish the relationship between climate change and health. The research, which began on a small scale with three main disease conditions namely Malaria, Guinea Worm infestation and Cerebro Spinal Meningitis (CSM), further attracted both local and international collaborators due to its relevance and novelty. As a result, Netherland Climate Change Program (NCCP) offered to sponsor the preliminary stages of the research which was piloted in the Ashanti region of Ghana and subsequently got supported by the United Nations with a grant of about $100, 000 to include the Northern part of Ghana. The findings from this study which presented different forecasting scenarios, brought to light the need to put in place specific interventions to remedy the effects of climate change on the health of people.
Currently, Prof. FAY is engaged in a number of collaborative research projects at the Komfo Anokye Teaching Hospital (KATH) in the areas of Digoxin toxicity and cancer. The Digoxin project is being undertaken to assess the risk associated with drugs that are used to treat cardiac abnormalities (Arrhythmias). These drugs are generally referred to as anti-arrhythmics an example of which is "Digoxin". He is also involved in a number of studies on cervical cancer, hyperbilirubinemia, prostate cancer and breast cancer. He believes that these fields of research are of great relevance to society since the incidence and prevalence of cancer appears to be on the increase leading to high mortality. He added that research should be tailored to meet the social, health and economic needs of the people.
Prof. FAY obtained his undergraduate degree BSc (Hons) from the Kwame Nkrumah University of Science and Technology. He pursued further studies at the University of Nottingham Medical School, where he obtained a Master of Science in Chemical pathology. During this period, he undertook research on Coeliac disease at the Derbyshire Royal Infirmary (UK) and was able to isolate some specific proteins (Alpha –Crystallin & Ubiuitin) that were very important for the diagnosis and treatment of patients with the condition. Following his PhD in 1994 from the School of Pharmacy, University of London, he pursued a post doctoral fellowship at the School of Medicine and Dentistry, Kings College, UK .
He has published numerous papers and books including "Topical Series in Health Series", "How to use Coconut Water in Surgery" (SAVIOR) and "Care AIDS and Pregnancy" (Scientific Basis).